More often than seems reasonable/random, the internet zeitgeist throws a number of seemingly unrelated references to an interesting topic my way. Today's theme was robots; a couple weeks ago it was butterflies. The title of the post comes from a tweet from @debcha, "I often describe dragonflies and butterflies as the 'charismatic megafauna' of the insect world…" This post will be light on Odonata; expect loads of Lepidoptera.
First up, a book I had high hopes for: The Dangerous World of Butterflies, The Startling Subculture of Criminals, Collectors, and Conservationists.  Short version – I was disappointed. I found the book to be superficial, not very well written and more than a little narcissistic. I don't know appreciably more about butterflies or butterfly conservation issues than I did before I picked the book up – there didn't seem to be a thread tying things together or even relating one vignette to another (I'm thinking of Sy Montgomery's Birdology as a polar opposite). There were tangents that I would have liked to have seen pursued: Laufer touches on the internal mechanisms of metamorphosis and moves on quickly saying, in effect, "it's an area scientists are still investigating." Interview a few more scientists? Try to do some science writing? The writing itself is a bit of an issue. It's published by Lyons Press – if this is the current incarnation of Nick Lyons' operation, I'm saddened. "And in a box padded with wads of tissue paper for padding…" Ouch. "Item: 'Take the Lunesta 7-Night Challenge,' offers an advertisement for a sleeping pill. A floating butterfly illustrates the ad." The Lunesta (hmm, what might the root word be?) mascot is a large green night-flying lepidopteran. I wouldn't give Laufer (and the Lyons editors) so much grief but a couple pages earlier he dismisses the other fliers, "I was not seeking dragonflies or even moths. My target was butterflies." The situation is made even worse by the "Item:" immediately preceding, which mentions -wait for it- a Luna Moth! Sorry. Thumbs down.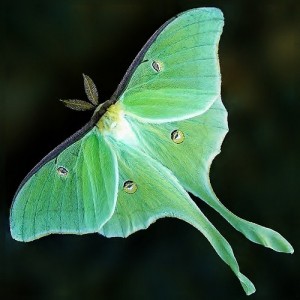 *
Next on the bookshelf, Klea McKenna's The Butterfly Hunter. Klea's father, Terrence, collected butterflies in Southeast Asia and South America in the late 60's and early 70's.  The few words and many beautiful images in this book do much to illuminate the desire and the remorse of the hunter. Highly recommended – and Terrence deserves a series of posts as well.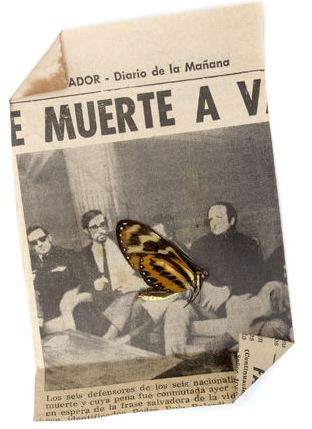 *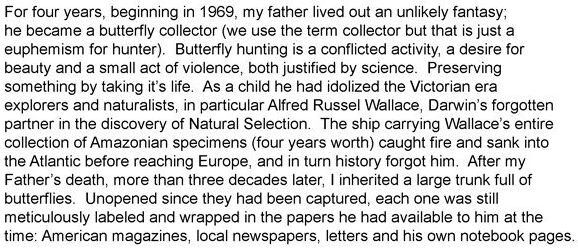 *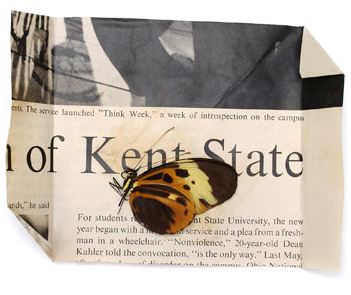 *
From the emotional, we move to the practical. Way back at the beginning of the Lepidopteran info storm, @debcha twote a link to Mechanisms of structural colour in the Morpho butterfly. I remember reading a bit about Morpho color a long time ago in The Splendor of Iridescence, but it was a long time ago and retention is an issue. The linked article is technical, but interesting nevertheless.  There's a cool interplay between structure and underlying color going on in a Morpho's wing – makes me want to watch some flutter about.
A side note – I think this xkcd applies pretty well to me (and @debcha thinks it might accurately characterize her as well).

*
And I'll close out this already overlong post (tl;dr) with some amazing work. I've seen some of Paul Schmookler's butterfly and full-dress Atlantic salmon fly pieces in person and they are stunning.
"An extraordinary display of butterfly and fly by Paul Schmookler, thought by many who have viewed this gifted American artist's work to be the king of the 'extreme' full-dressed salmon fly. Measuring 17 1/2″ x 13″ overall, the gold painted wood frame houses two sunken mounts, the upper with an actual vibrant green/black Trogonoptera brookiana butterfly, a species native to Malaysia, and the lower, a striking 3 1/8″ salmon fly with corresponding colors. The remarkable fly is an original creation of Schmookler's, tied for the consignor's collection. In excellent condition throughout, signed on the bottom right. A rare opportunity to own an example of Schmookler's genius with feather and thread, as this master tyer's work seldom comes to auction."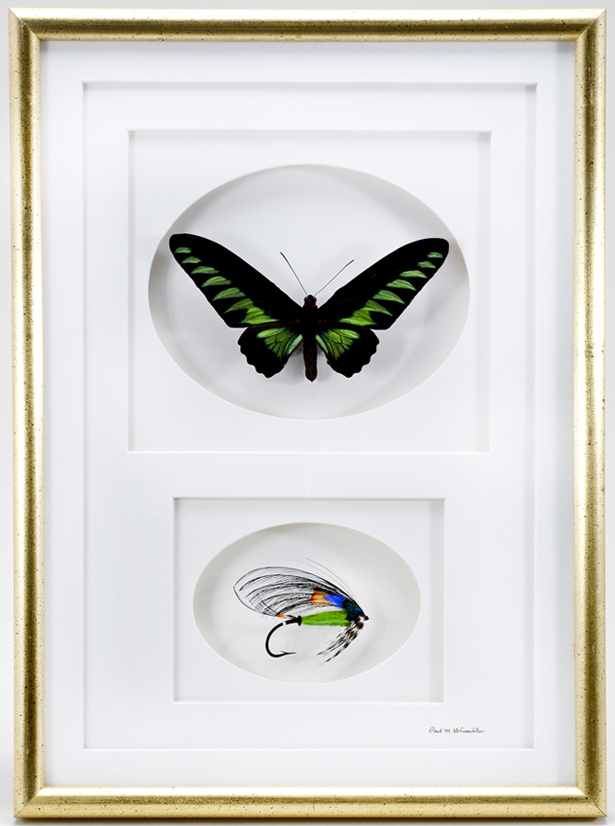 *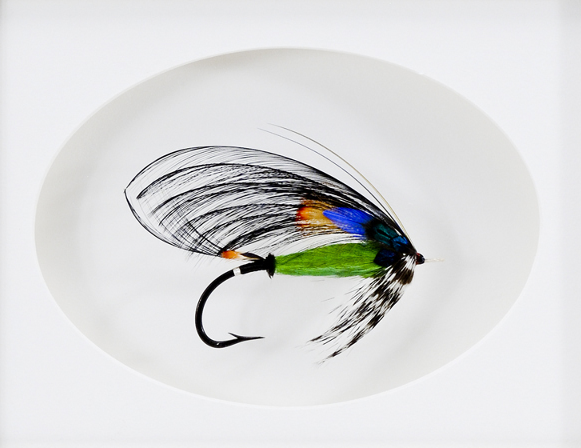 *
And one more fly – not butterfly-linked, but I can't resist.