I wanted to say a little more about the Chiricahua Mountains; when I met Drew in El Paso he told the that the Chiricahuas were an absolute must-experience and he was right. They're an ecological Four Corners: Rockies from the north, Sierra Madre from the south, Chihuahuan desert from the east and Sonoran desert from the west. Add in the effects of altitude – a change in vegetation, etc. every thousand feet – and you have one of those meeting places in the landscape with incredible diversity. The part of the ride that took me through Cave Creek Canyon was my favorite – I'm a sucker for bosque dells.
I'd mentioned that hummingbirds woke me up in Portal; "In fact, thirteen species of hummingbirds are know to occur in the Chiricahua Mountains, and many of these are Mexican species that are rarely seen in the United States."*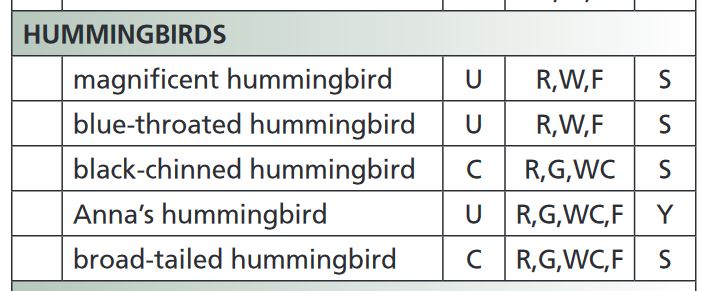 One of the big draws is the Elegant Trogon* – I was told I was a week too early to see one, but B's feed on Strava indicates it was more like 4 days. Ah, well – a good excuse to return with birding as a focus. I did see a Gould's turkey, so that's 2 new wild turkey subspecies this trip (the other is the Rio Grande turkey). Merriam's wild turkey is a possibility in a week; I'll keep my fingers crossed.
One last reason to dig the area – Portal has very dark skies. The stars at night are amazing!
*pronunciation note – I've always said 'trogon' with a hard G, but I heard someone say trojawn in Portal. Google search says hard G is correct; maybe the J person was from Philly – or maybe Google is wrong?