This was originally going to be another installment of "Got a a match?" but then Modern Fred posted something to his Flickrstream so interesting and in tune with the topic that I really had no choice – trips it is. The subject – odd superspy/special ops firearms.
First up – ModFred's contribution. The U.N.C.L.E. Special was an icon of my kid-hood – I loved the show and at one point had an U.N.C.L.E toy (Mattel?): a radio that unfolded into a semi-auto cap carbine. I was totally covert. I guess I'd always assumed that the Special was just a prop cobbled together in a studio shop – not so. It was based on a Walther P38, with beaucoup added pieces.
*
*
*
Questions remain. If the article above is to be believed, the pistols were converted to full auto. I don't remember seeing the gun fired in an episode – it would be interesting to know if it Napoleon or Illya ever resorted to spray 'n pray. "After practical testing on the MGM firing range, it was decided that for short range, no sights would be necessary." Say what? How many real (non-blank) rounds did these beasties ever fire? Was accuracy ever an issue? I mean, it's not like the THRUSH agents really needed to get all shot up. Finally – why did THRUSH and Tania both favor a scoped M1?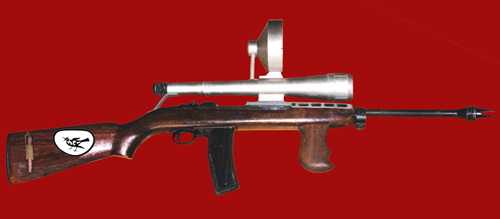 *
*
Second verse, same as the first, a whole lot quieter, accuracy usually worse.  The Gyrojet family was a new approach – not guns, but rocket launchers. Gyrojets made an appearance in You Only Live Twice – certifying them as superspy material. Gyrojets were from opposite world in more ways than one – unlike every other gun I'm familiar with, where a moving firing pin whacks a stationary cartridge, in a Gyrojet a hammer slaps the nose of the rocket, sending it back into contact with the pin.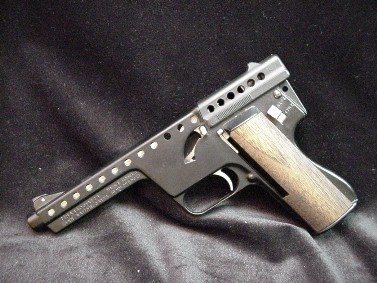 *
Gyrojet weapon was one of the rare attempts to develop an entirely different weapon with some unique properties. This weapon tried to achieve several goals, including the low noise of firing and underwater fire capabilities, along with significant firepower and penetration. In doing so, it was far from any conventional firearms; in fact, it was a hand-held, multi-shot rocket launcher that fired "armor piercing" projectiles, made from steel and with pointed nose. Each projectile contained its own rocket engine and means for stabilization – either in the form of retractable fins or in the form of inclined jet nozzles which forced the missile to rotate, and thus provide gyroscopic effect for stabilization. Each rocket "motor" burned for about one tenth of a second; maximum velocity of about 380 meters per second (~1250 fps) was achieved at ranges about 20 meters from muzzle, while muzzle velocity was as low as 30 meters per second (~100 fps). Because of that slow acceleration the Gyrojet was almost useless a weapon at short ranges, within 5-7 meters. Another problem, inherent to this weapon, was poor reliability (even in ideal conditions this gun was to misfire about once in every 100 rounds; in actual life it did so much often than that). Add to this very poor accuracy because of insufficient stabilization of projectiles during early stages of trajectory, and you get more of curiosity and collectible piece rather than combat weapon. Probably the only plus of this weapon was that it indeed was more or less silent – when fired, it produced a short hiss, sort of a pierced tire sound, clearly different from any typical gunshot. However, it deserved its place in the history of small arms as one of the very rare attempts to made unconventional combat weapons that worked, even only to some extent. *
The phrase quoted above: "underwater fire capabilities" brings us to the last of the troika – the Soviet SPP-1. Water and air are very different mediums, as anyone who has executed a massive belly-flop can attest. The SPP-1 is a combat frogman's pistol – designed to fire underwater. I'm surprised it works at all, but as the youtube below shows, work it does.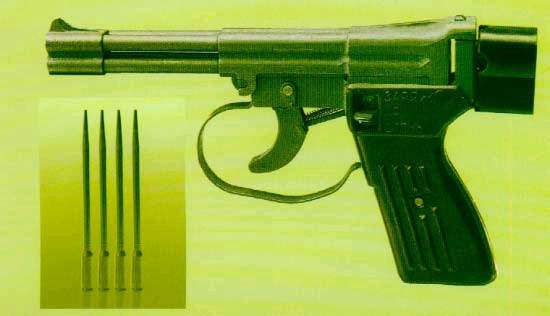 Spetsialnyj Podvodnyj Pistolet
SPP-1 is a non-automatic, manually operated handgun with four barrels. Barrels are hinged to the frame in the same manner as on break-open shotguns. For reloading, barrel cluster is tipped to expose chambers, and four cartridges are inserted into barrels. To speed up ejection and reloading cycle, cartridges are loaded using flat clips, made from steel. The double-action trigger unit consists of a striker, mounting on a rotating base, so during the each trigger pull the striker is cocked and simultaneously rotated to the next, unfired barrel. *
*
Near instant update: Modern Fred responds, "The guns were actually fired full auto in a couple of episodes- one in which the U.N.C.L.E. headquarters are attacked in the parking garage by a Thrush squad, the other was I believe "The Alexander The Greater Affair". The toy gun you had was I believe a Agent Zero M toy (M for Mattel, the manufacturer)- a very cool series of everyday items that converted to guns. The TV commercials featured a very young Kurt Russell as Agent Zero M." There you go! Another data point on the unreliability of memory – I conflated U.N.C.L.E and Agent Zero M. Here's the radio and here's another Agent Zero M toy I wanted in the worst way. My mom was a nurse long before she became a mother – she could see disaster a mile away – the Sonic Blaster was not going to happen. I couldn't find the Kurt Russell commercial, but I did find him on Lost in Space – which reminds me – I need to see if the new Chariot model is available yet.