Via Bruce S comes this very nice ubicomp project.
Amphibious Architecture submerges ubiquitous computing into the water—that 90% of the Earth's inhabitable volume that envelops New York City but remains under-explored and under-engaged. Two networks of floating interactive tubes, installed at sites in the East River and the Bronx River, house a range of sensors below water and an array of lights above water. The sensors monitor water quality, presence of fish, and human interest in the river ecosystem. The lights respond to the sensors and create feedback loops between humans, fish, and their shared environment. An SMS interface allows citizens to text-message the fish, to receive real-time information about the river, and to contribute to a display of collective interest in the environment. *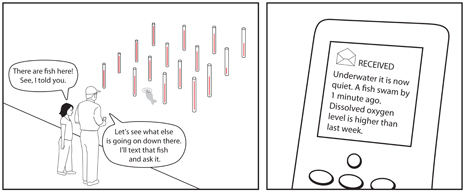 Fish Sensor from xDesign Project on Vimeo.
*
Also – augmented reality seems poised for a big takeoff – at least buzz-wise. I've been seeing AR posts everywhere (especially on Bruce S's blog); like ubicomp, AR makes info in one's surroundings more accessible. Maybe spoken word:writing::5 senses:augmented reality?