As far as I can remember, "The Saturday of Marten Van Kleek" was what first stimulated my interest in historical and buried landscapes.
Even though the nearest big city, Boston, has an enormous amount of new land (check this map (.pdf) of the tiny town as of 1645), I've always been especially interested in subterranean rivers and Boston, with the Fenway and other salt marshes, just doesn't have much to offer. The really big city just beyond Boston does, though.
..We had a lantern to pierce the cellar darkness and fifteen feet below I clearly saw the stream bubbling and pushing about, five feet wide and up-on its either side, dark green mossed rocks. This lively riverlet was revealed to us exactly as it must have appeared to a Manhattan Indian many years ago.

With plum-bob and line, I cast in and found the stream to be over six feet deep. The spray splashed up-wards from time to time and standing on the basement floor, I felt its tingling coolness.

One day I was curious enough to try my hand at fishing. I had an old-fashioned dropline and baited a hook with a piece of sperm-candle. I jiggled the hook for about five minutes and then felt a teasing nibble. Deep in the basement of an ancient tenement on Second Avenue in the heart of midtown New York City, I was fishing.

Feeling a tug, I hauled up in excitement and there was a carp skipping before me, an almost three pounder. I was brave enough to have it pan-broiled and buttered in our upstairs kitchen and shared it with my brother…*
Last October, when Sandy hit, I was concerned about my son. He lives in Brooklyn – quite a ways away from the water, but that didn't stop me from worrying. I didn't know if perhaps he was in the middle of an old ravine or a bowl that held a pond way back when. Off I went to the evacuation map where I found that he was in good shape. I wasn't crazy – here's a graphic ganked from Manhattan Past's 'Manhattan Evacuation Plan Reveals Island's Old Contours' post.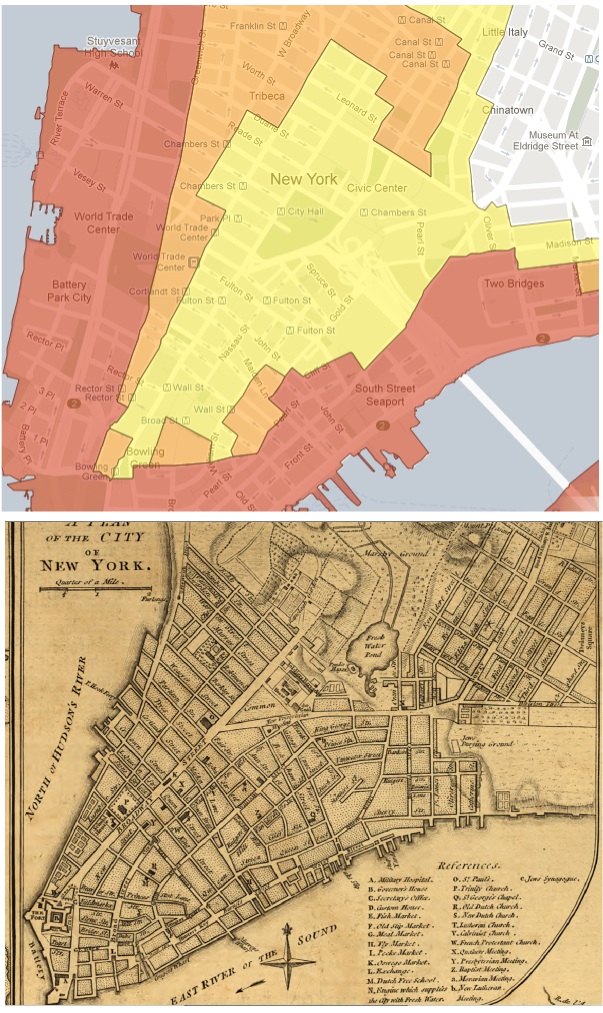 Note the orange hook in the top center of the evac map that corresponds with where Collect Pond used to be. No equivalent in Lefferts Gardens across the East River, but one never knows.
And finally, there's Tim Maly's excellent City Built on a Dredge – more on NYC, the made landscape and water. Mr. Maly looks at evacuation maps, too – much of the red at the tip of Manhattan Island is new land made of spoils from dredging. One (railfan's) quibble: "The High Line is an architectural marvel made possible by the dredging of Newark Bay." should read more like "…the re-purposed High Line park…" – the High Line was there before and it was, in it's original form, killed by the container (all of which I am 1000% sure Tim knows – as I said – quibble).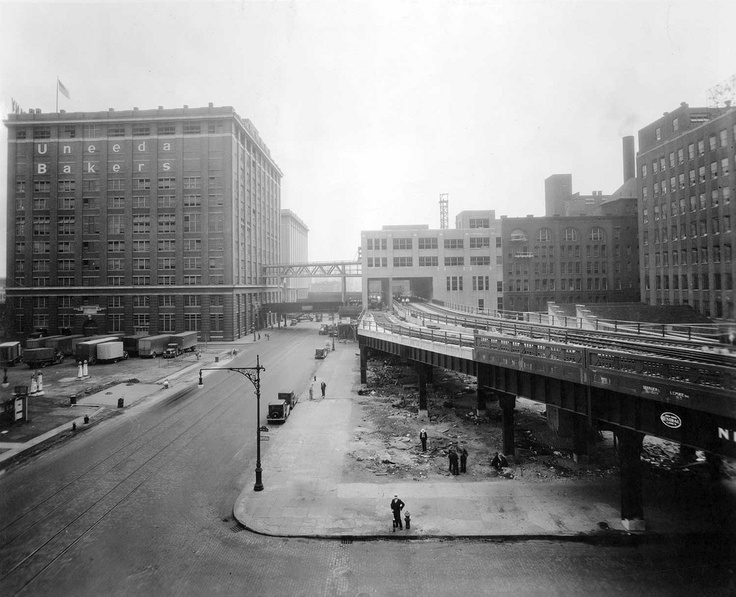 * quote from Norman Maclean's A River Runs Through It.