Handlebars, shifters, brake levers and stem are non-standard enough to warrant their own post. The handlebars are Crust's Towel Racks. They are w–i–d–e: I have relatively wide Nitto Noodle bars on the blue bike – they measure 48cm across. The Towel Racks are a majestic 66.6cm from end to end. This translates to lots of hand postions and plenty of leverage to guide the big bike through rough terrain. They also provide plenty of space for my handlebar bag, J. Bené Romanceür Esq.'s Fabio's Chest.
The levers/shifters are from Gevenalle. I could have gone with my usual solution: bar end shifters and plain old levers, but the bar ends are soooo far apart and I wanted to dip my toe into technology that's been ubiquitous for 25? 30? years – indexed shifting. Brifters didn't attract me. They work beautifully, I'm told, but when they fail, they fail catastrophically. And they are limited in how many cogs you can shift with one hand motion. The Gevenalle levers are mechanically simple, have a fallback friction shift mode and let you shift as widely as you like with one sweep of the lever.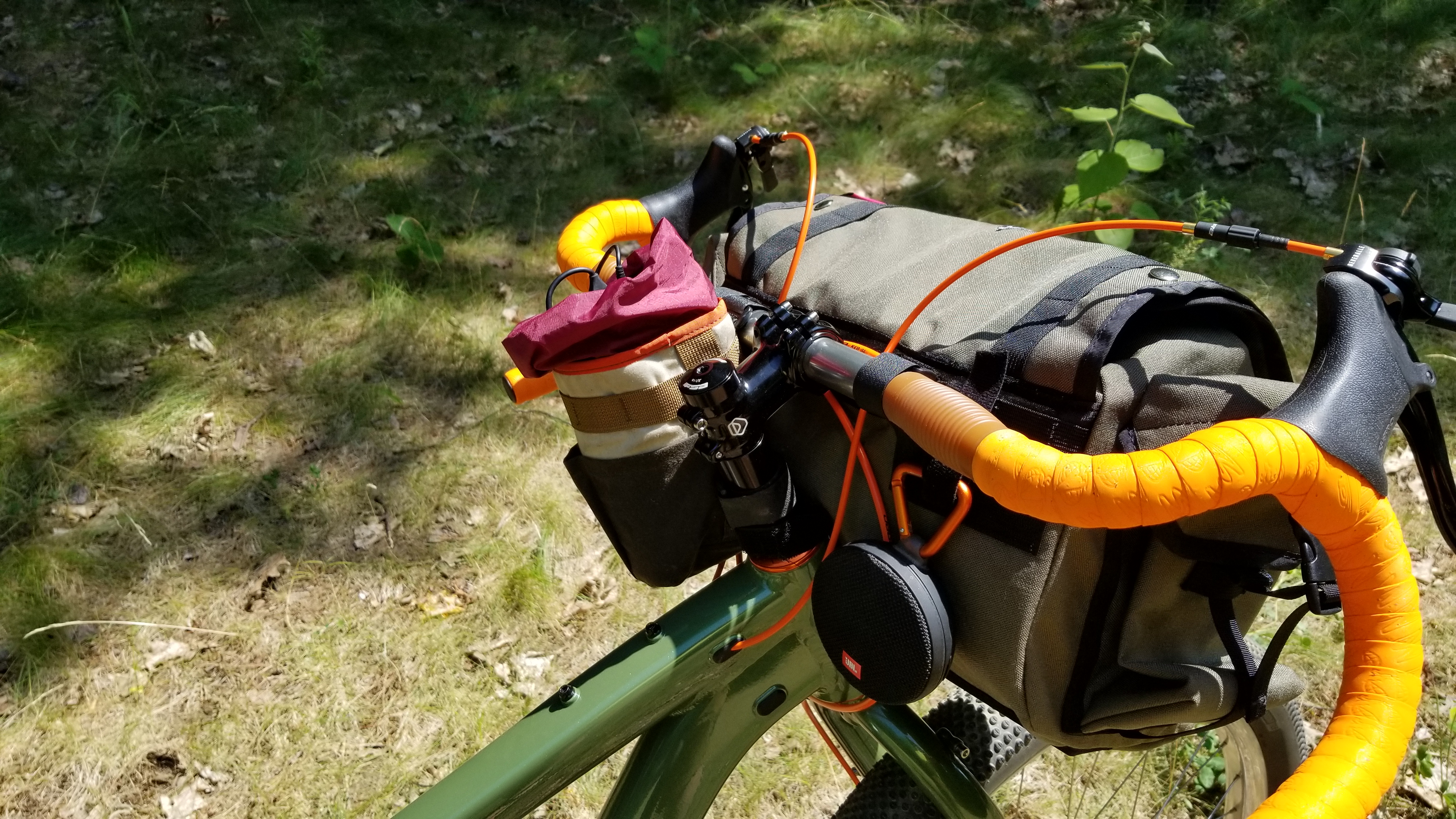 The stem is short! 35mm, I think? A short stem works beautifully with wide bars, especially for those of us with normal wingspans. A bit of bike heresy to keep your eyes on: Analog Cycle's (w)Right Stuff 0mm offset stem.Click though and read if you are at all interested in bike fit – interesting!
One maybe two more bike build posts coming, but I may interrupt the 'all bikes all the time' flow to fill folks in on the results of an upcoming Breuklyn trip. Heading down to do some visiting, but while I am there I'm hoping to say hello to Wes Modes* or at the very least catch the show at the Waterfront Museum (holy carp is Lehigh Valley No. 79 a car ferry barge? holy carp!).
* one degree of separation via good internet friends I've yet to meet IRL: John and Kate Young