I first met Angela at a New Hampshire Media Makers meetup back in August 2009. During her three minute 'here's what I'm up to' presentation she spoke of her interest in wearable tech: fabric/electronic mashups. I'm interested in any kind of computing/networking/digital tech that doesn't involve a screen, keyboard and beige box; we said hello and struck up a conversation. Later in the week, she sent me links to work – REACTIVEfashion – she'd done (with Rebecca Grabman) as a senior at Bennington:
Interactive Formalwear.
*
Tween Voodoo.
*
Skate Power.
*
Wow, said I.
Before we get to what Angela has been up to recently, a few words on the path she took into Making. She went to Bennington intending to paint and do illustration, but ended up in a 3D animation class. When the person teaching 3D animation left, that program was essentially done (perils of small colleges). Not to worry – Angela jumped into Robert Ransick's Viral Media class, from there, on to Physical Computing. Her timing was perfect – Leah Beuchley was off and running on her pioneering work, the Arduino folks had produced their platform (since adapted/adopted into the wearable-friendly Lilypad) – there was a lot of fun and ferment around wearables. Her interest in physical computing led to the work above, which was presented in a couple different venues – including a runway show, and to a class that I have to mention because the title is so great: Experiments in Mixed Reality (incidentally, structured around rapid prototyping cycles).
Since I met her last fall, Angela has been producing great work at an amazing clip:
I'm probably missing a couple, too. Going forward, I've heard rumblings that she's coordinating flash-mob fun (including interactive tech) with Tara Sullivan (organizer of the Portsmouth Thriller Dance last Halloween) and know for sure that she's looking into makerspace possibilities here on the seacoast. Especially with the flash-mob planning, it seems that she's exploring some of the group dynamics/interaction themes that were central to at least one of the rapid-prototype projects she's described to me.
Why Angela Sheehan on Ada Lovelace Day? She epitomizes, for me, many of the best aspects of Maker kulturny. She mashes up things she's skilled at with things she's figuring out and isn't daunted by 'I've never done that before'. If it's something she wants to know, she learns it; if it's less intriguing, she'll get help. She pulls stuff apart and repurposes components in service to her projects. Alongside the uber-maker thing is her creativity – Angela just has a ton of cool ideas, many of which involve technology (important for the whole Lovelace thing!). Three cheers for Ada Lovelace and three cheers for Angela Sheehan.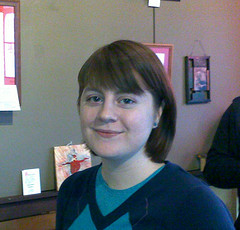 [Side note - you can find Angela's chinchilla related work at The Fuzz Depot.]