There are many fish I'd like to chase, but three keep turning up in my fantasies. For some reason, they're all (at least in part) gold – go figure. Today, the first – the majestic mahseer. Saying you want to catch a mahseer is kind of like saying you want to catch a trout – there's more than one kind. The one I'm thinking of is the Himalayan or golden mahseer – Tor putitora. Westerners have been angling for golden mahseer since the mid 1800s – large fish, swift water, incredible setting, fabled history – I'm in.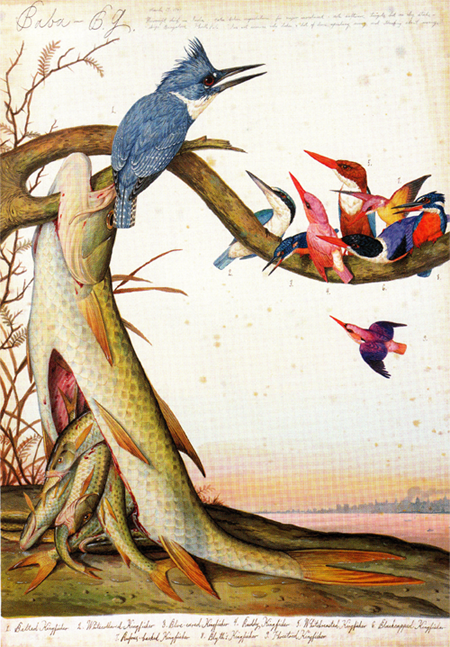 *
A note on the painting above – a week or so ago Steve clued me to a Walton Ford calendar – while messing around on Amazon, I stumbled across a date book as well. This is for the week of June 29. The painting is titled Baba B. G. and I'm pretty sure the fish are mahseer (they are big cyprinids of some sort for sure).
Several of the paintings are quite specific in their references. One (also at Long Beach) responds to Microsoft chief Bill Gates' visit to India in 1997, when Ford and his family were spending an extended time there. It shows "Baba B.G." as a North American kingfisher holding court to eight other brilliantly plumed birds sitting lower down on the same branch. A large fish, skewered by the branch where it meets the trunk, hangs nearby, spilling smaller fish from its slit gut. Some of those tumbling from its belly are shown in the process of eating even smaller fish. Such is the law of economic imperialism. *
Oh, and I couldn't resist the calendar either… A hint as to the identities of the other two species – they have the same name in Spanish and one is freshwater, the other salt.