Another cell phone jump – this time, only a little ahead of schedule. An interesting side note – did you know that cell  phones and cell phone batteries have cunning little patches that indicate if the device has been immersed in – just to pick a random liquid – water? They do! I once again resisted the siren call of the iPhone – two things are holding me back. First is the whole Apple=control freak thing.  I don't want my first interaction w/ the phone to be jail-breaking it – I have absolutely nothing against cracking the darn thing open, but if that's the first thing you need to do, something's wrong. The second barrier is more important – cost. The monthly bill for those little candy bars is significantly higher that for any other smart phone and that's before AT&T reveal the additional $$s you'll need to pay for tethering (you can tether now, I'm told – see point 1: jail-breaking). And there's the additional $$s for text messages and I'm sure there are other charges that I'm not paying attention to. I'd also looked at the G1/Dream but purchase price (how quickly we get used to carrier-subsidized prices) and concerns about functionality on a 'foreign' network put me off.
I ended up with a phone I've been eyeing for a couple months – the Nokia E71x. It runs the Symbian S60 OS – an oldy but goody with a lot of software written for it. Hardware-wise, it's got a 3G cell radio, 802.11 b/g (WiFi), a GPS, a hardware keyboard (something I've found I prefer) and a decent screen. The front panel size is on par with most landscape-screen-above-chiclet-keyboard devices I've seen, but it is a lot thinner. A couple pictures with my work Blackberry for comparison: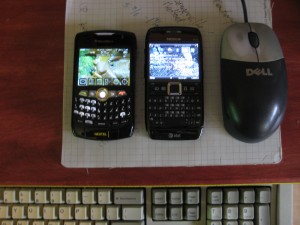 *
*
Speaking of hardware keyboards – notice the PC Keyboard in the top photo? It's an IBM Model M – at least 11 years old and still clacking away in bomb-proof style.
First impressions of the new phone are very favorable. Battery life isn't great, but it never is on a smartphone. I think if I could stop asking the phone to jump through hoops all day long (ooh! shiny! as applied to software) it might last a little longer between charges, too. It comes preloaded with a ton of AT&T bloatware, but as soon as my new micro-SD card arrives, I plan on using the instructions here to get rid of most of it. Things the phone will do for me (some out of the box, some with additional software):
make phone calls. Quality and reception are very good – my office is a cell phone torture test area and the new phone makes and receives calls. Win.
tether to my Nokia N810 (and presumably other bits of hardware – haven't tried that yet).
run a full Twitter client. I'm using Twittix – had some trouble installing the demo of the other contender – Gravity – so Twittix wins by default.
scan barcodes. See this demo over at Mediated Toynbee to get a sense of what's going on.
check email. I can see both my gmail account and my super-seekr1t personal account using Nokia Messaging.
see where I am. I'm using Google Maps rather than the preloaded (and not free) AT&T/Telenav mapping app. I'm also trying to load Nokia Maps – no luck so far. If I need turn-by-turn naviagtion, I'll use my N810 – better screen and free navigation app.
set up an ad-hoc wireless network. Saving the best for last – I installed JoikuSpot Premium. JoikuSpot turns the phone into a wireless access point with a cell uplink – I fire up the application and a new wireless network appears. If you connect your computer (or iTouch or N810 or…) to the network, the phone gives you access to the internet via it's cell connection. Big win.
I still have some tweaking and tuning to do but so far – big thumbs up.