If I do a three-fer on bikes, does that make it a tricycle post?
A nice old Mercian spotted at the Portsmouth Farmers Market:
*
Campy downtube shifters – the retro-grouch in me is well pleased.
*
A blast from the past logo (good memories):
*
The Mercian badge:
*
And a better version from elsewhere on Flickr:
*
My guess is that the pilots of these babies were next door at the coffee shop – getting their fill of hot drinks before the cool and breezy Halloween Parade.
*
Via Ride the Machine, Henri de Toulouse-Lautrec and the Simpson chain.
A draft: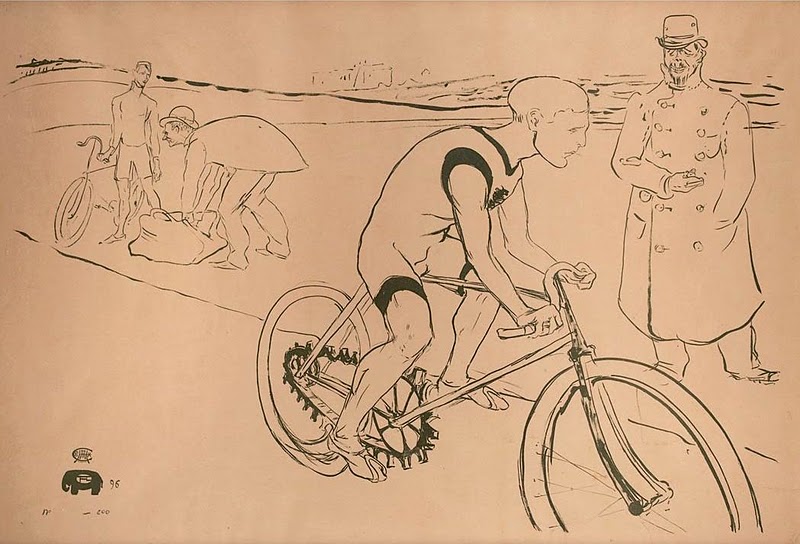 The Guvnor Owner's Club tells us the cyclist depicted is Jimmy Michael. Wikipedia's entry on Michael includes this interesting bit:
His biggest engagement in Britain was the so-called Chain Race at Catford track in 1896. William Spears Simpson had invented the Simpson Lever Chain, which he was so insistent was an improvement over conventional chains that he staked part of his fortune on it.Pryor Dodge wrote:

"In the fall of 1895, Simpson offered ten-to-one odds that riders with his chain would beat bicyclists with regular chains. Later known as the Chain Matches, these races at the Catford track in London attracted huge crowds estimated between twelve and twenty thousand in June of 1896. Simpson's team not only included the top racers – Tom Linton, Jimmy Michael, and Constant Huret – but also the Gladiator pacing team brought over from Paris. Pacers enabled a racer to ride faster by shielding him from air resistance. Although Simpson won the Chain Matches, they only proved that the Gladiator pacers were superior to their English rivals.[5]"

Michael was pitched against Charley Barden in the five-mile race. What happened next – indeed whether it happened in London or at another Chain Race in Germany – is now lost. But stories start with Michael taking a drink offered to him by Warburton[6] and end with his riding poorly to his falling off his bike, remounting and setting off in the wrong direction.[7] The one thing accounts agree on is that the crowd shouted "Dope!"[8]

Michael's strange behaviour at this meeting, and his withdrawal, led him to accuse Warburton of doping him. Many rumours surrounded Warburton but none had been proven and he sued for libel.
*
And the approved ad – note the quints in the background and -I assume- pacing le Boulanger. Quads and quints were used for pacing before being supplanted by dernys.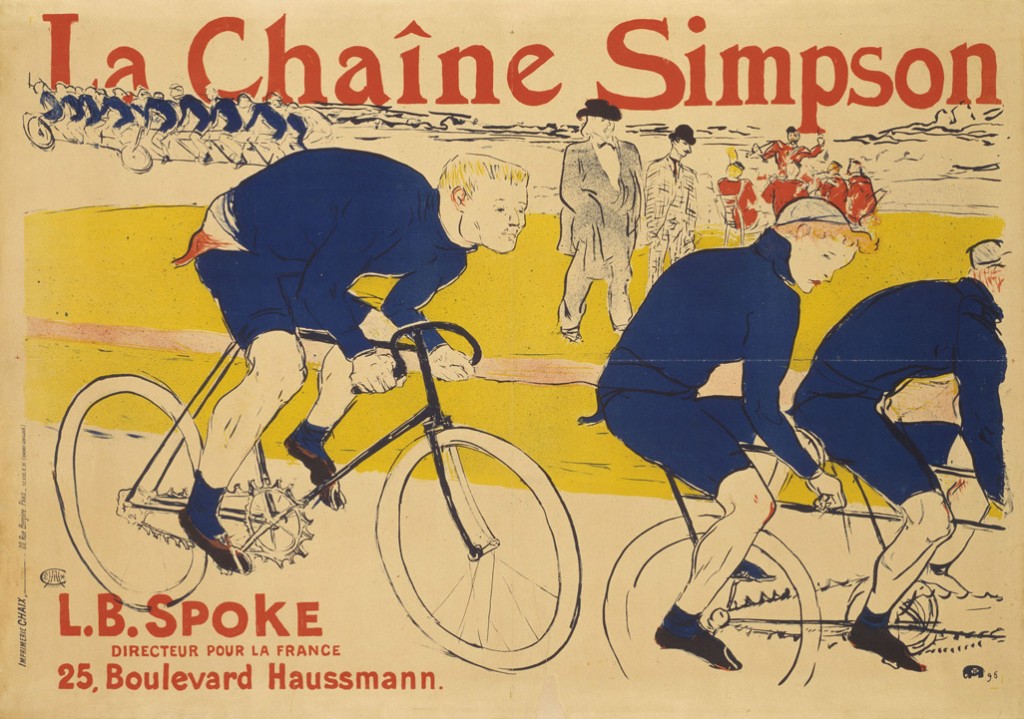 *
The Simpson Lever Chain is a bit of oddness – equal parts unnecessary complication and perpetual motion machine. The chainwheel interface operates more or less conventionally, but the cog engages the top of the triangular link – thus the 'leverage'?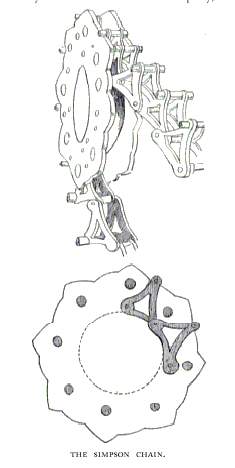 The Simpson Chain, of which so much was heard at the last Stanley show and so little since, has entered the cycle field in a practical way through the medium of a company by whom it is to be promoted. Whatever may be its ultimate fate and merits it has friends and opponents whose views are as fervid as they are diverse. The Cyclist condemns it, denies the genuineness of the victories it undoubtedly has recently gained in contests and roundly contests its value. On the other band, so important and disinterested an organ as The Sporting and Dramatic News is one of the ardent supporters of its claims, says of it, that "There is nothing simpler than the Simpson chain, which can be applied to any safety cycle now in use at a very moderate cost."*