The causes of the war are obscure, and it seems to have been provoked primarily by rumours circulating amongst the Calcutta-based British administration (Delhi not being the capital until 1911) that the Chinese government, (who nominally ruled Tibet), were planning to give it to the Russians, thus providing Russia with a direct route to British India and breaking the chain of semi-independent, mountainous buffer-states which separated India from the Russian Empire to the north. These rumours were confirmed seemingly by the facts of Russian exploration of Tibet. Russian explorer Gombojab Tsybikov was the first photographer of Lhasa, residing in it during 1900—1901 with the aid of the thirteenth Dalai Lama's Russian courtier Agvan Dorjiyev.

In view of the rumours, the Viceroy, Lord Curzon, during 1903 sent a request to the governments of China and Tibet for negotiations to be held at Khampa Dzong, a tiny Tibetan village north of Sikkim to establish trade agreements. The Chinese were willing, and ordered the thirteenth Dalai Lama to attend. However, the Dalai Lama refused, and also refused to provide transport to enable the amban (the Chinese official based in Lhasa), You Tai, to attend. Curzon concluded that China did not have any power or authority to compel the Tibetan government, and gained approval from London to send a military expedition, commanded by Colonel Francis Younghusband, to Khampa Dzong. *
I heard about today's auction on the radio this morning (no info on the NPR web site yet). The obvious fact that the album might as well be on another planet as regards my acquisition does not stop me from lusting after it.
An album of important photographs taken during the controversial British Mission to Tibet in 1903-04 is for sale at Bonhams Travel and Exploration, India and Beyond sale in London on 5 October (£10,000-15,000). The album can be traced to a member of the Mission – Lieut. William Pyt Bennett – and is believed to be the first with such a provenance to appear at auction.

The photographer was John Claude White, a Political Officer in the Indian state of Sikkim, and joint leader of the expedition with Major Francis Younghusband. Officially the mission's purpose was to settle a border dispute between Sikkim and Tibet but it turned into a full scale invasion with the aim of establishing a strong British presence and, crucially, thwarting Russian ambitions in the area. *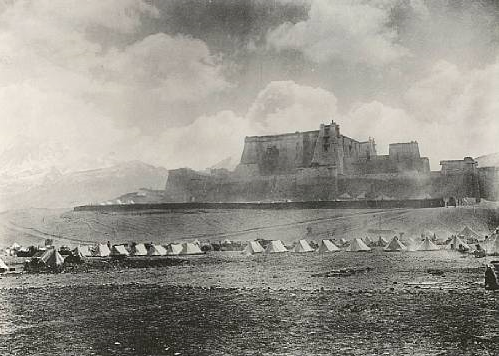 *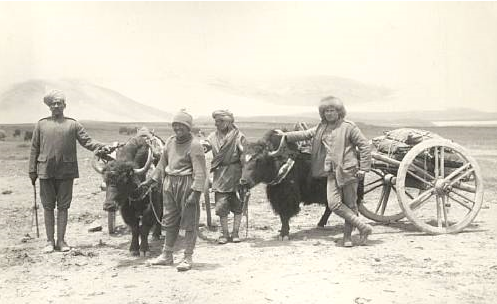 *
*
I have another Tibetan post in the pipeline (hint – 1924-25, rhododendrons and primulas) – stay tuned.