-or-
Bike Trip of the Ancients
Here's how this post started:
Karl responded and generously sent along scans of all his photos from the trip. Those of you with eyes for detail may notice a certain, how to put it, consistency in my dress. At that point in my life I had borderline Cayce Pollard levels of clothing signifier fear. JPUs for the trip consisted of jeans both long and short, a wool jac-shirt and a couple (trip-famous) identical t-shirts. I figure I wore cycling shoes a lot more than I remember – off the bike, I seem to be always barefoot, with w-h-i-t-e feet.
The trip itself? It was organized by Project Adventure (in the person of Karl Rohnke); we loaded up a U-Haul trailer in the parking lot of Hamilton-Wenham H. S., drove up to Montreal, put everything on a CN (thus no spiral tunnels – that's CP) passenger train, rode same to Vancouver, debarked and rode our bikes home (the North Shore of Massachusetts). An amazing and wonderful trip.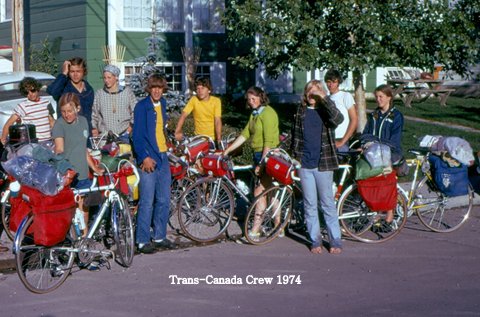 More photos after the jump.